Regular price
Sale price
$3.00
Unit price
per
Sale
Sold out
Our hot foil samples card includes a meticulously curated, ever-evolving, collection of metallize, matte-metallized, and pigment foils. These are available for use on ALL our custom production line products.
Share
View full details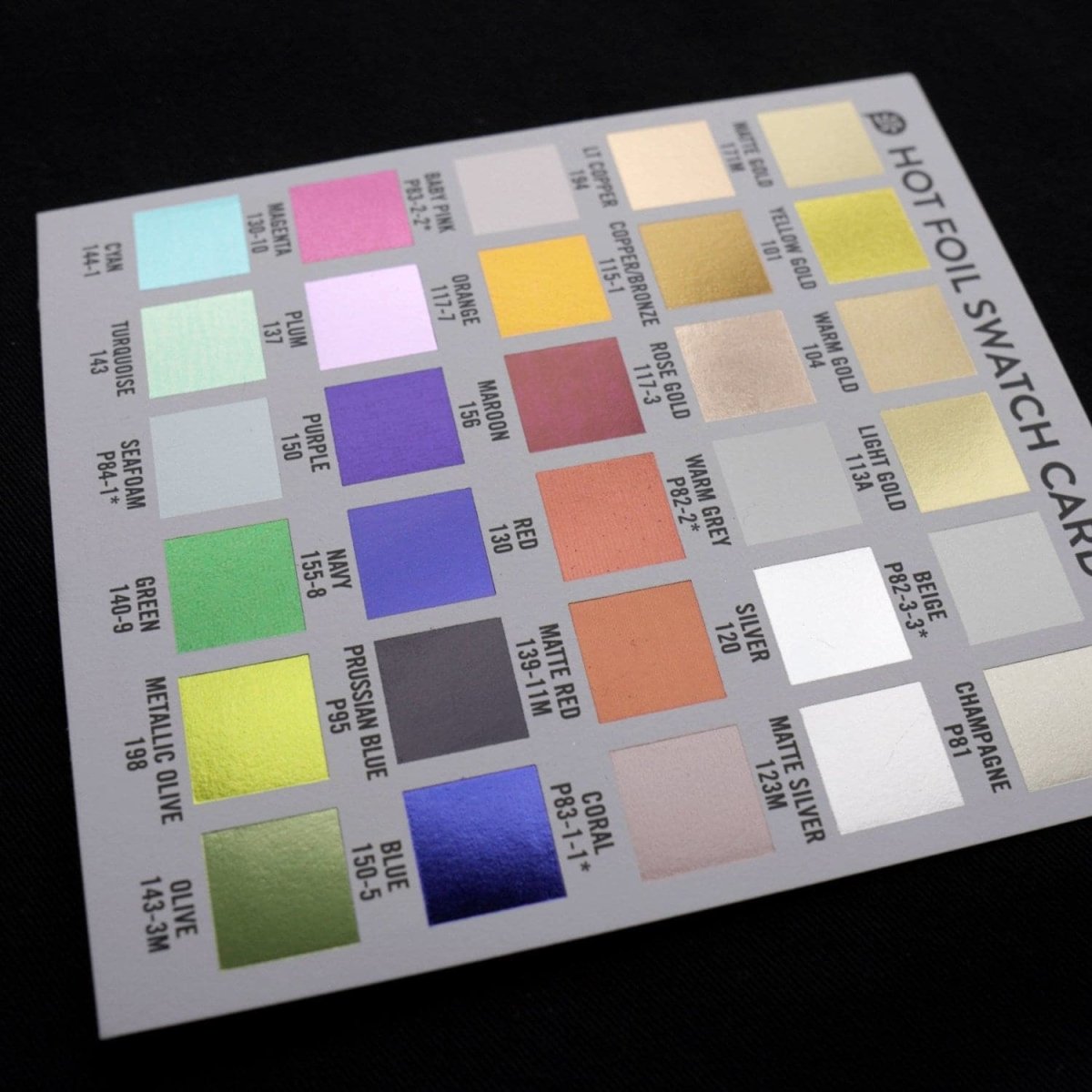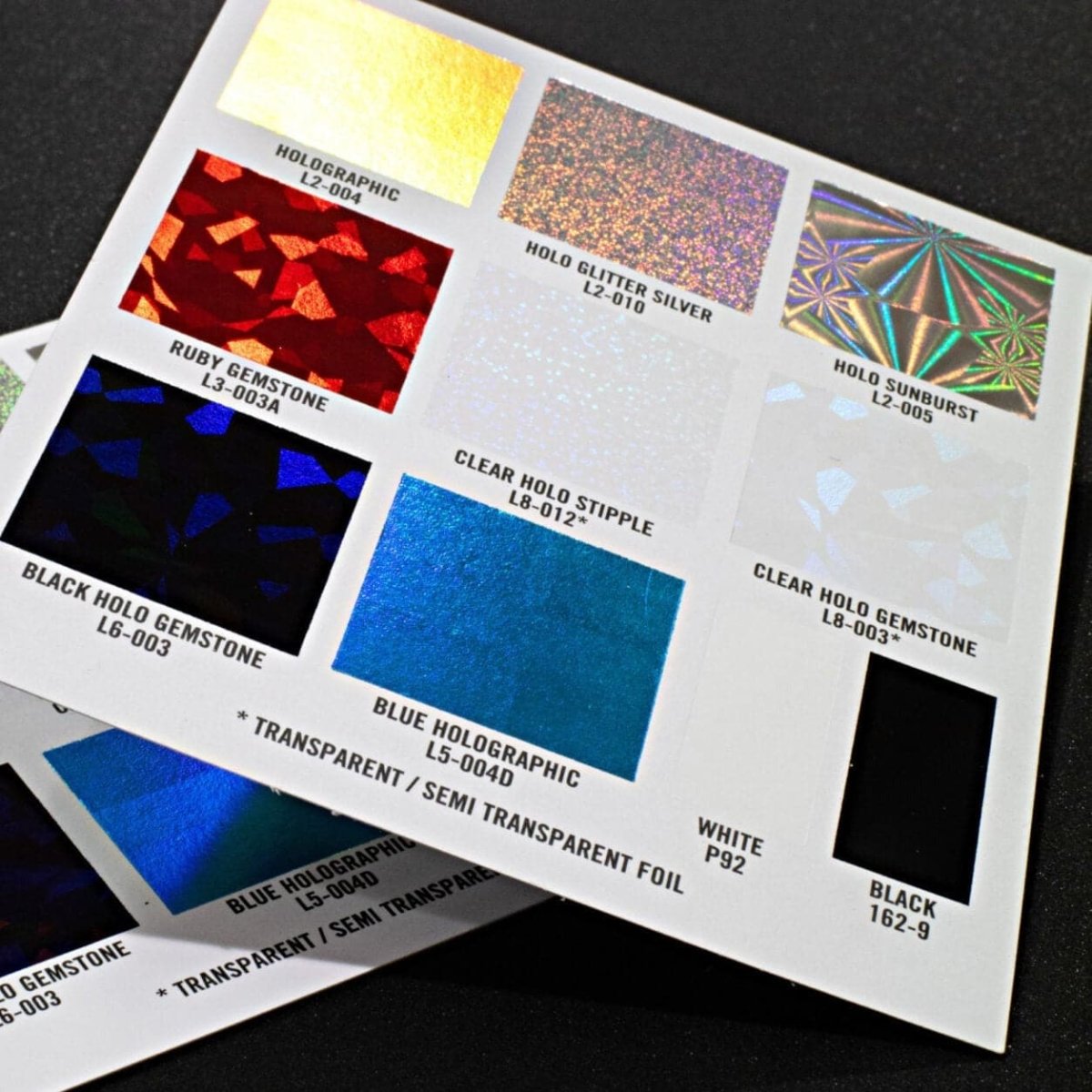 FAQs - Hot Foil Stamping Colors Sample Card
Description

Our Hot Foil Swatch Card (V1) Includes the following colors:

Metallized Foils:
• Yellow Gold (101)
• Warm Gold (104)
• Light Gold (113A)
• Light Copper (194)
• Copper / Bronze (115-1)
• Rose Gold (117-3)
• Silver (120)
• Blue (150-5)
• Cyan (144-1)
• Turquoise (143)
• Green (140-9)
• Metallic Olive (198)
• Orange (117-7)
• Maroon (156)
• Red (130)
• Magenta (130-10)
• Plum (137)
• Purple (150)
• Navy (155-8)

Matte-Metallized Foils:
• Matte Gold (171M)
• Matte Silver (123M)
• Matte Red (139-11M)
• Olive (143-3M)

Pigment Foils (Non-Metallic)
• White (P92)
• Black (162-9)
• Warm Gray (P82-2)*
• Beige (P82-3-3)*
• Champagne (P81)
• Prussian Blue (P95)
• Seafoam (P84-1)*
• Baby Pink (P83-2-2)*
• Coral (P83-1-1)*


Specialty Foils:
• Holographic (L2-004)
• Holo Glitter Silver (L2-010)
• Holo Sunburst (L2-005)
• Ruby Gemstone (L3-003A)
• Clear Holo Stipple (L8-012)*
• Clear Holo Gemstone (L8-003)*
• Black Holo Gemstone (L6-003)
• Blue Holographic (L5-004D)

* Is partially transparent and works best on white or near white paper. If used on colored paper, foil color will shift significantly (can also result in creative results).
FAQs

What is Hot Foil Stamping?

Hot Foil Stamping is a printing process that uses a heated die to stamp a metallic or pigment foil onto the surface of paper, plastic, or textiles. This technique can be used to create raised or debossed patterns and logos on a wide variety of materials. It is one of the most popular printing processes for creating custom results with professional quality.

How many colors are available in hot foil stamping?

Print Peppermint offers an extensive selection of 45+ colors in our hot foil stamping collection. We carry 5 types of gold as well as holographic, glossy and matte foils, non-metallic pigment foils, white and black foils, specialty pattern foils, and semi-translucent foils - all of which offer unique visual effects when stamped onto various substrates such as paper, plastic, textiles or leathers.

Can I get a custom color for my project?

Yes! If you don't find the perfect color for your project in our standard range we can order custom foil colors upon request - just let us know what you're after and we'll make it happen! We understand it's important to ensure that the final product is something that you love so our team will work with you every step of the way to create something special for your project!

Are there any limitations when using hot foil stamps?

Generally speaking there are no major limitations when using a hot foil stamps however certain substrates may be more suited than others depending on the type of finish that you're aiming for - it's best to reach out to us if you have any questions regarding this as we may be able to provide assistance in understanding which substrate would be best suited to create the desired effect!

Are these finishes durable enough for long term use?

Absolutely! All Hot Foil Stamping Colors offered by Print Peppermint have been extensively tested for both durability and quality so they can withstand long periods of use without fading or losing their original vibrancy over time allowing customers to enjoy their printed items over extended periods without worry!
Shop Specialty Print Services