With exotic black papers and many foil colors to choose from, you can create bold statements in professional style.
Regular price
Sale price
$49.00
Unit price
per
Sale
Sold out
The Peppermint Promise

We strive to produce high-quality products that not only meet, but exceed, our customers' expectations, but we understand that there may be times when you are not satisfied with your order. If you are not satisfied with your custom product, please contact us within 14 days of receiving your order and easily request a reprint or refund.
View full details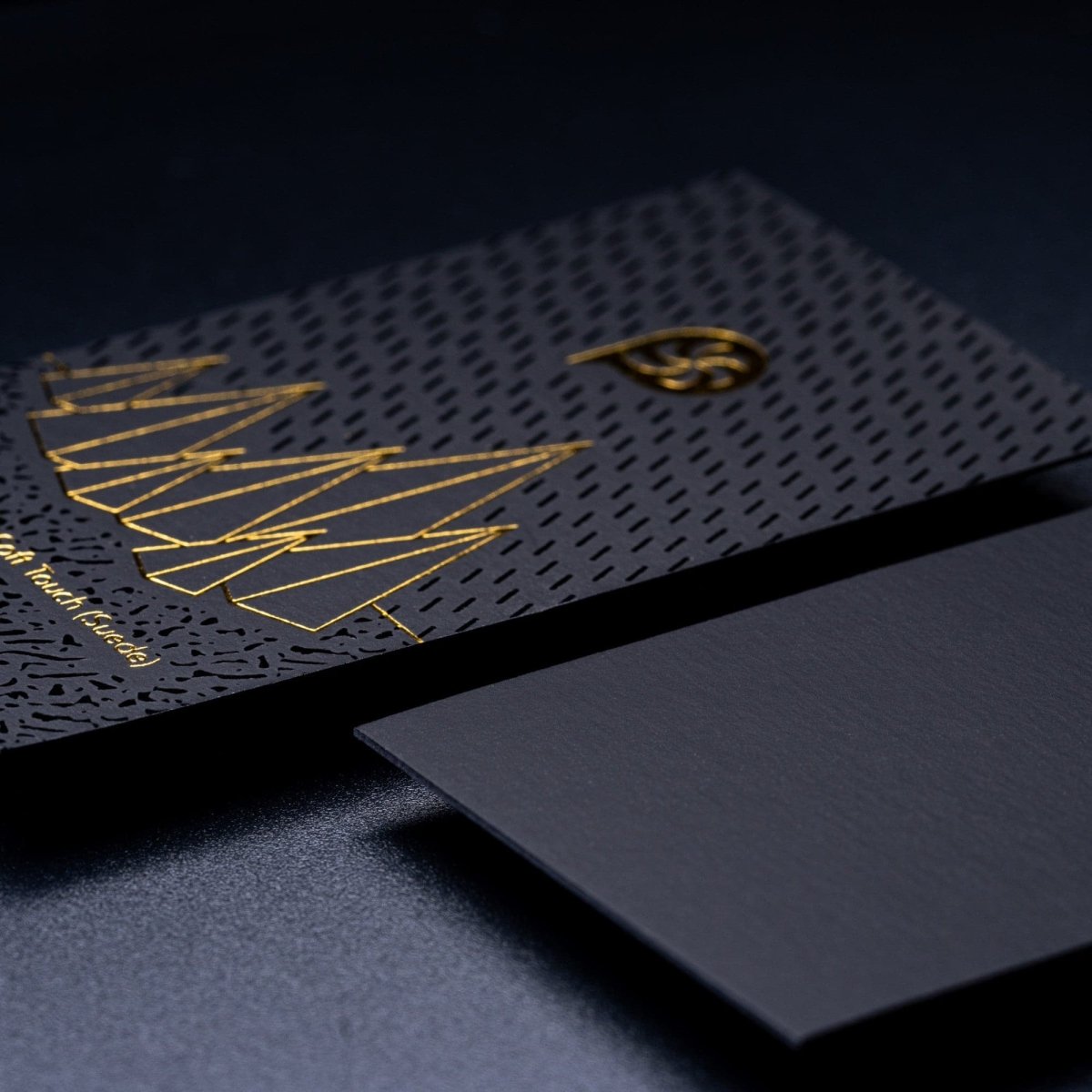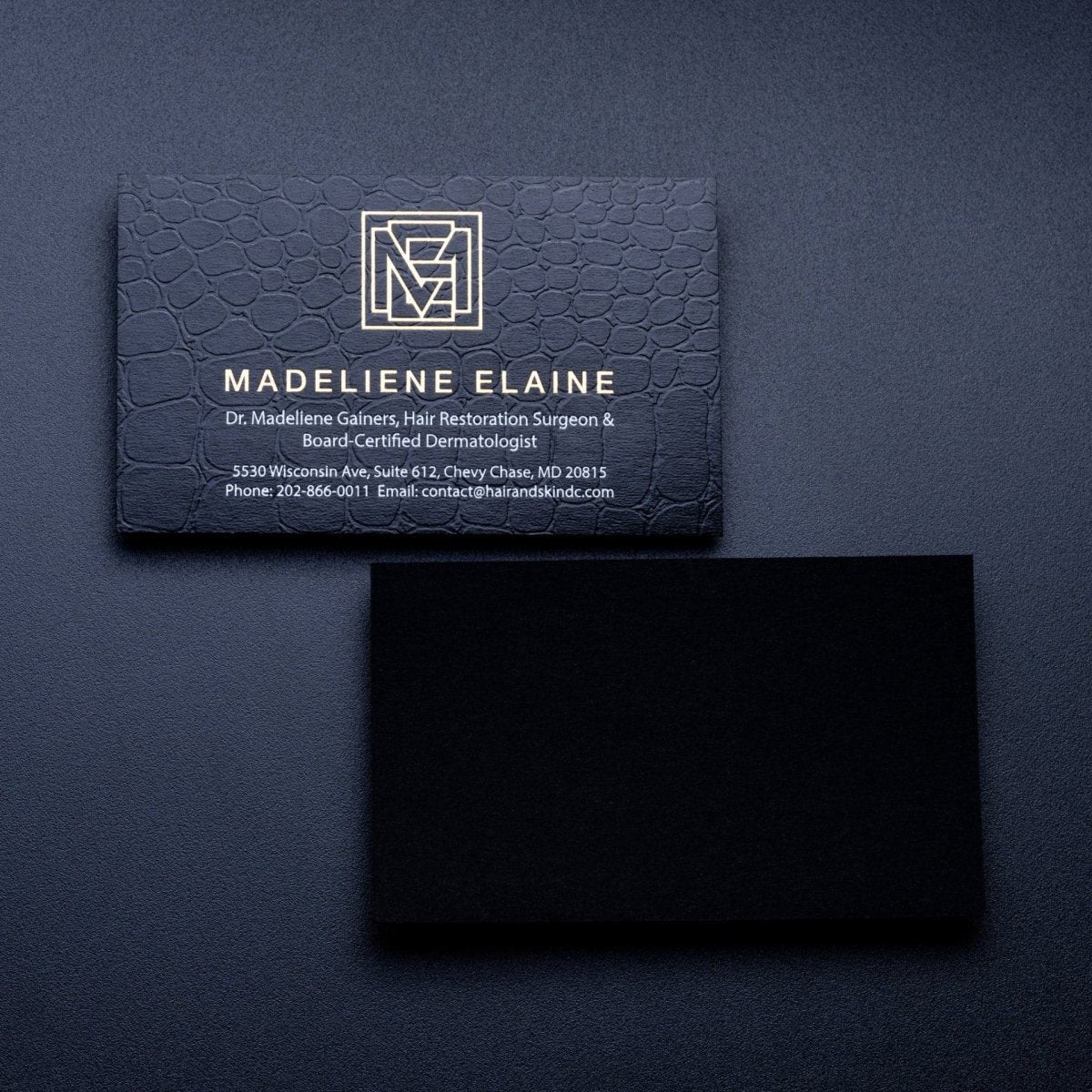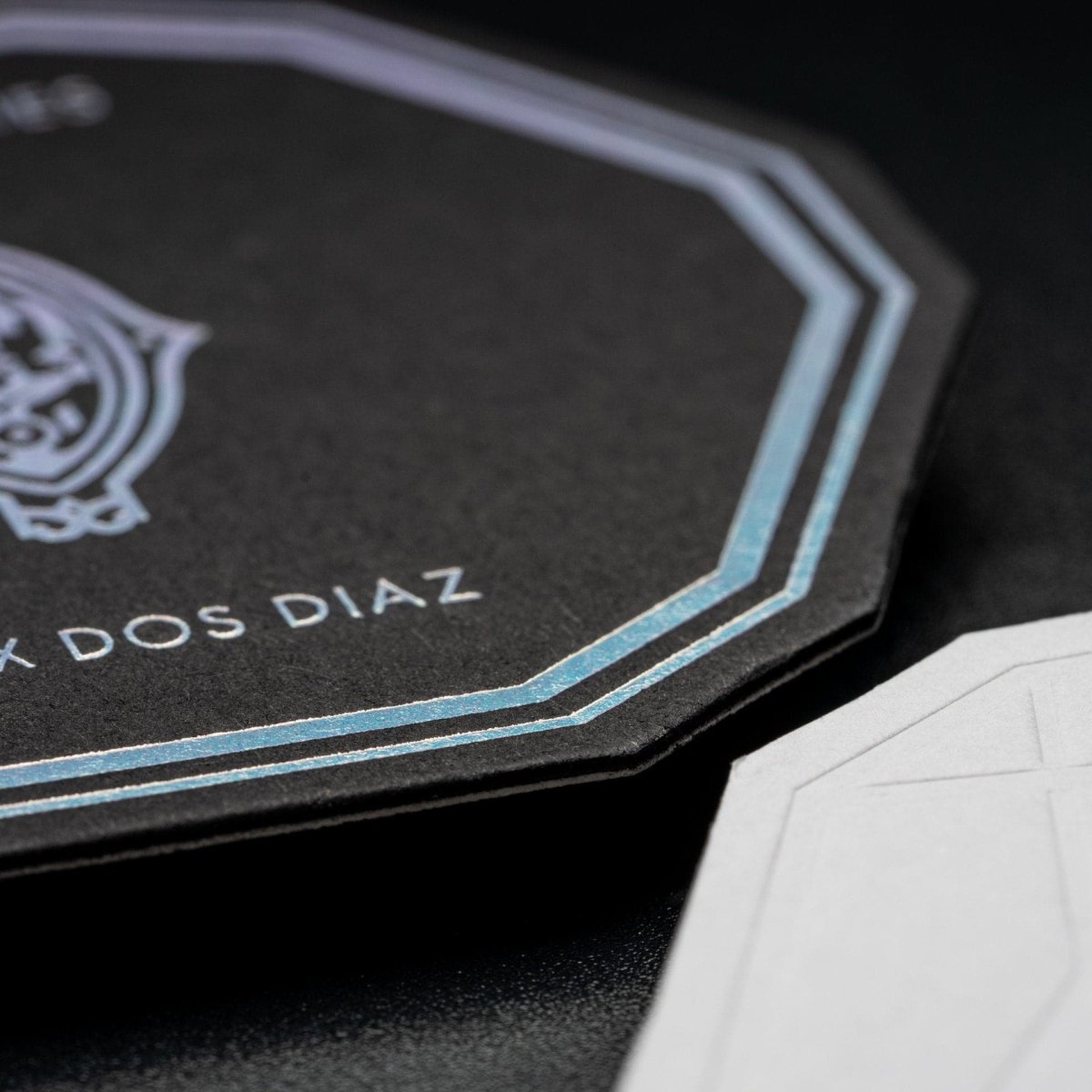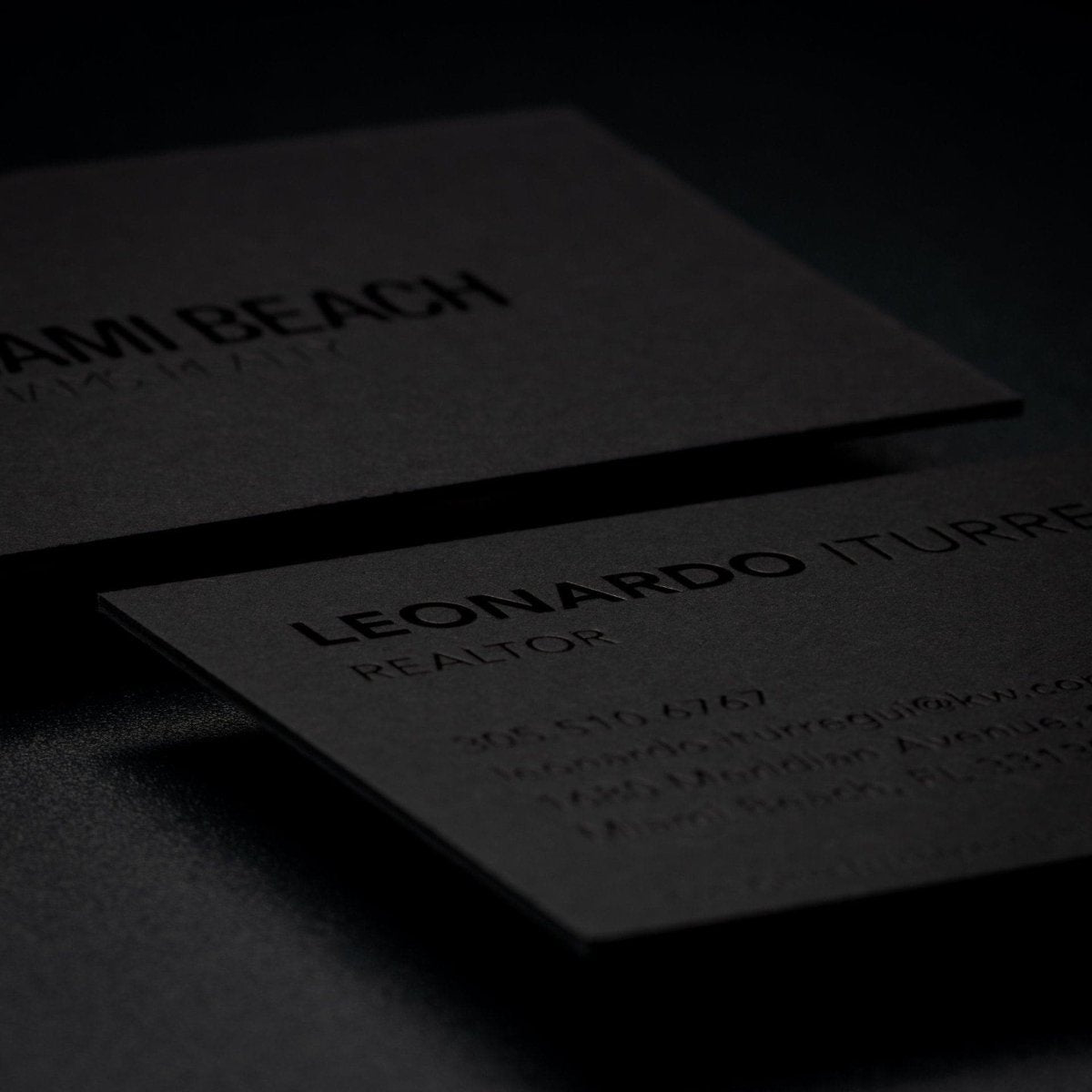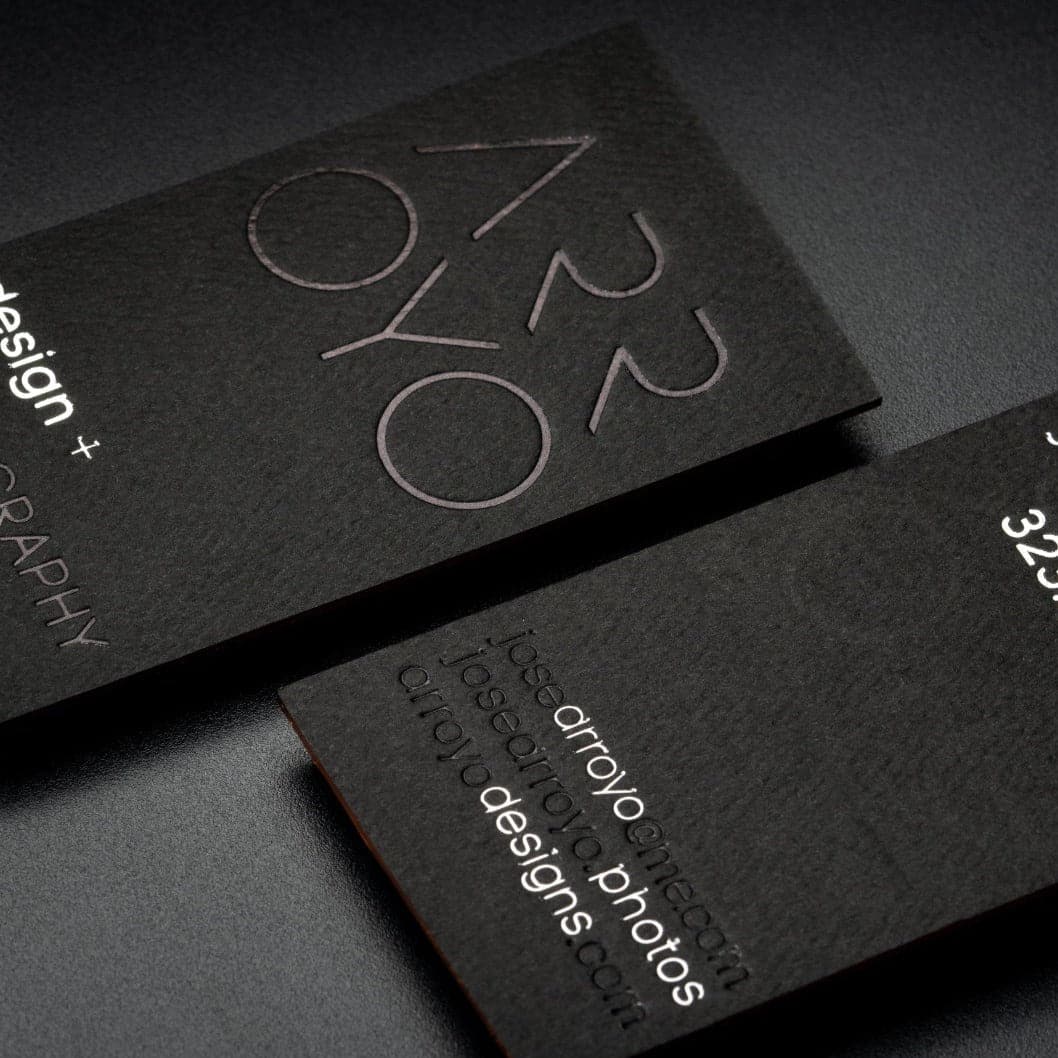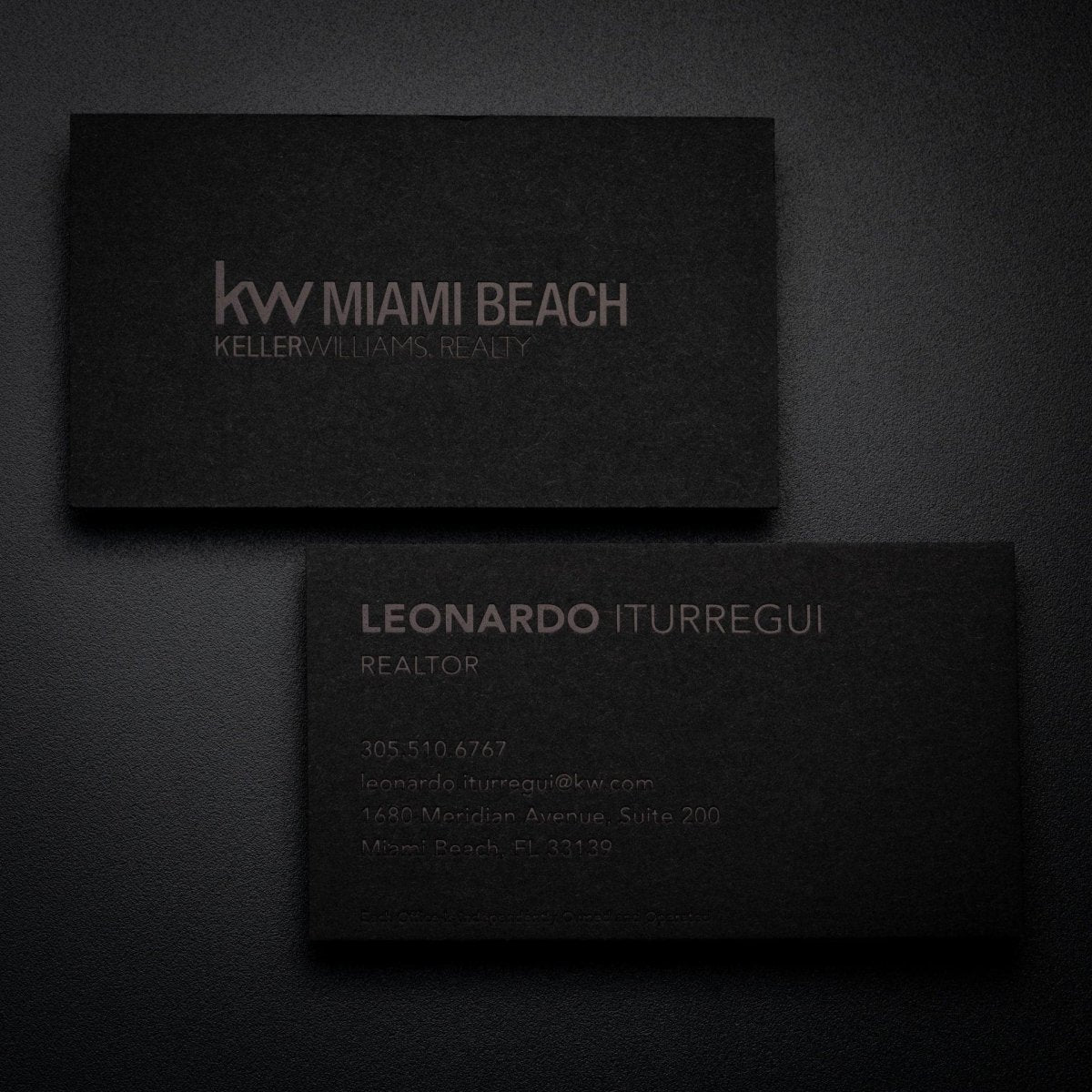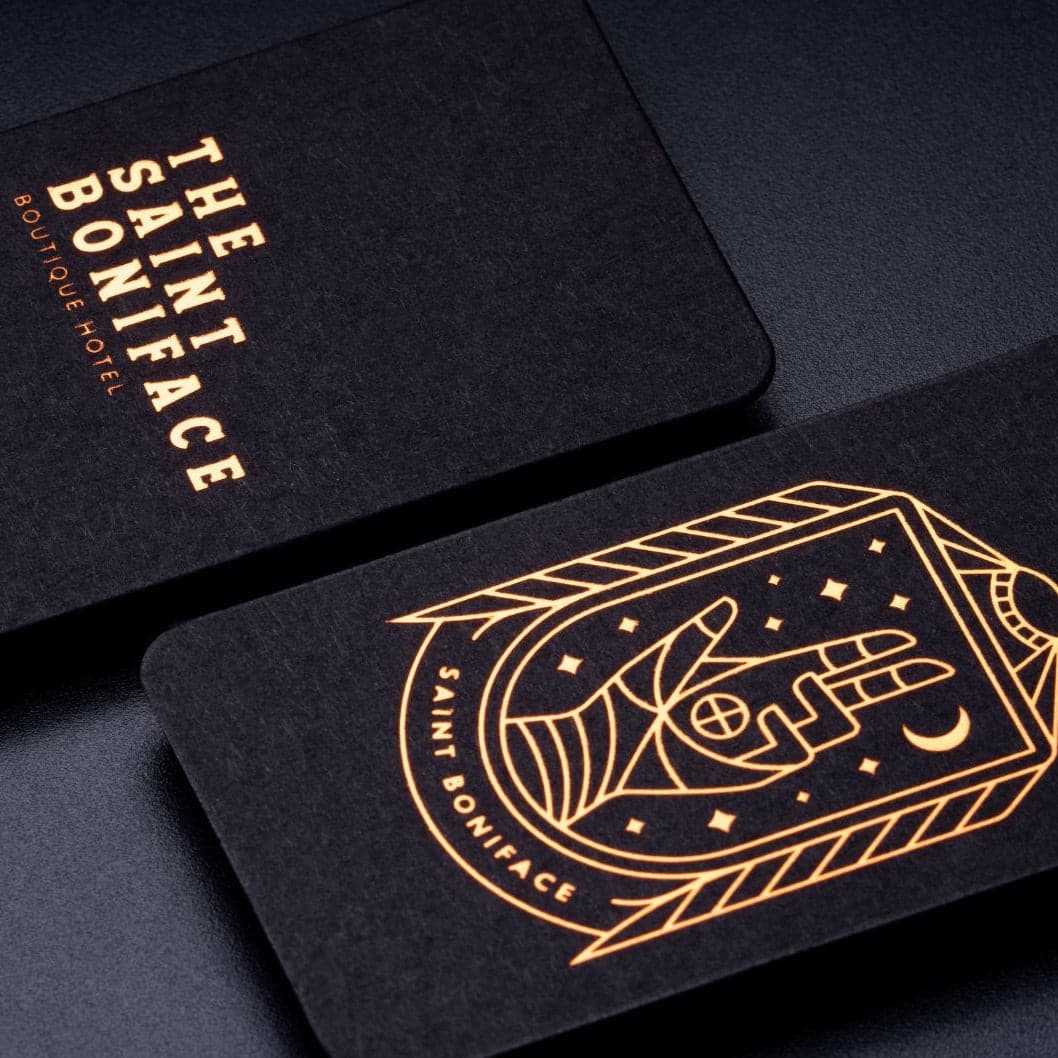 If you're into Black Business Cards, you may also like:
Included with every Black Business Cards Order, Always!
Designer-Verified Artwork Proofs

Every art file from every Black Business Cards order is hand-checked by our meticulous PrePress team.

Fast & FREE Temporary Prints

Want something fancy but need something fast? That's why we offer free holdover prints for orders over $250.

Ultra Happiness, The Peppermint Promise

If you're not totally happy with your Black Business Cards, easily request a reprint or refund within 14 days.

Seriously Safe & Secure Payments

We do everything in our power to keep your data safe. Full PCI compliance & data privacy standards.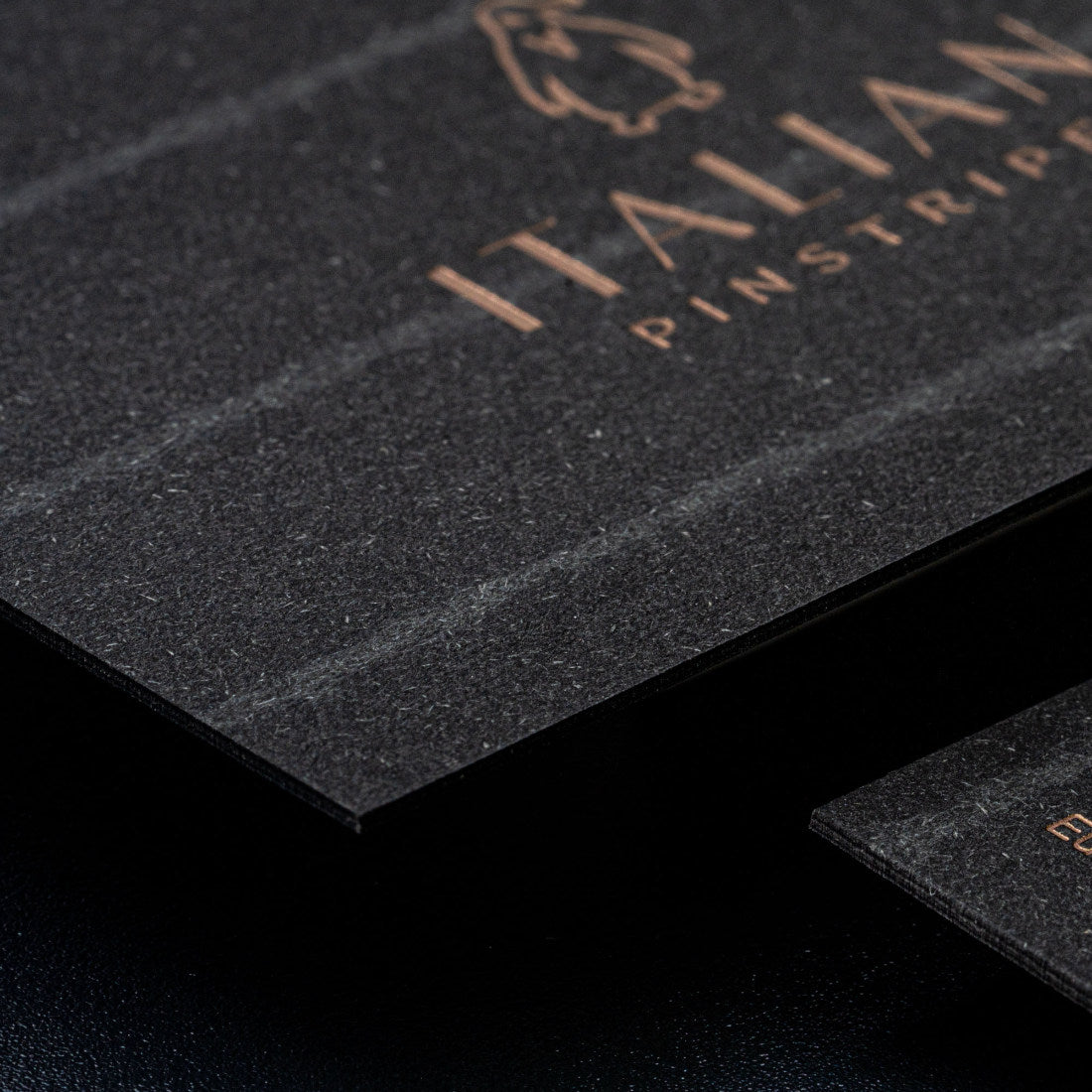 FAQs - Black Business Cards
Materials

Black Business Cards can be produced on any of these great stocks:

| | |
| --- | --- |
| Peppermint Name  | Manufacturer Name |
| Ultra-Black Uncoated | Fedrigoni Sirio Ultra Black |
| Dull Black Uncoated | Noble Black Uncoated |
| Black Felt-Marked | Munken Felt Uncoated |
| Dull Black Pinstripe | Fedrigoni Saville Row Plain |
| Black Onyx Suede | Black Soft-Touch Laminated |
| Black Armadillo | Black Armadillo |
| Black Linen  | Black Linen  |
| Black Cotton | Cordenons Wild Series |
| Black Laid | Fedrigoni Murillo |
| Ebony & Ivory | Ultra Black + Bright White |
| Black Crystal | Cordenon Stardream Onyx |
| Recycled Black | Gmund Heidi Black |
| Black & Kraft | Ultra Black + Stone Kraftliner |
| Black Sand | Hyacinth Vivid Fine Sand |
| Black Wood | Gmund Urban Wood - Brasilia |
| Black Leather | Gmund Leather - Coal |
| Black Stucco | Fedrigoni Tintoretto |

 
Finishes

Black Business Cards can be enhanced with any of these optional features:

Basic Finishes

Rounded Corners
Spot Gloss UV
Folding


Standard Finishes

Everything in Basic, plus:

Matte Lamination (Silk or Soft-Touch)
Raised Spot UV
Raised Foil (3 Colors)
Hot Foil (Limited Colors)
Edge Painting (Limited Colors)
Layered Papers (Limited Colors)


Premium Finishes

Everything in Standard, plus:

Hot Foil (All Colors)
Die Cutting
Laser Cutting
Letterpress Printing
Spot Color Printing
Raised Ink (Thermography)
Paper Duplexing
Embossing / Debossing
Edge Painting (All Colors)
Edge Foiling

 
Turnaround

Black Business Cards typically require:

PREMIUM Turnaround Time (See chart below)

Turnaround depends on the paper & features selected for your project.

Not sure which category your order falls in to? Feel free to contact our support team.

TURNAROUND

Basic Products

Includes:

16pt Matte & Gloss
14pt Uncoated
10pt Linen
Rounded Corners
Spot UV

(2-4) Business Days*
+ Ship Time

Standard Products

Includes:

Silk & Soft Touch Lamination
Raised Spot UV & Raised Foil
Hot Foil (Limited)
Edge Painting (Limited)
20pt Plastic
Some Folding

(2-4) or (5-7) Business Days*
+ Ship Time

Premium Products

Includes:

Exotic Papers
Thick Papers
Hot Foil (All Colors)
Die Cutting
Embossing
Letterpress Printing
Spot Color Printing
Edge Painting (All Colors)
Metal & Wood
30pt Plastic
Custom Folding

15 Business Days*
+ Ship Time

+ Temporary Prints (please ask about pricing)

 * These are Averages based on our previous 12 months of orders.

By policy, we DO NOT GUARANTEE TURNAROUND TIMES - there are simply too many factors outside of our control.

Please note, Ship Time is in addition to Production Time.

If you do have a HARD DEADLINE, please reach out to our customer support before placing your order to confirm feasibility. 

For orders over $250, we offer Temporary Prints to help bridge longer wait times. These are basic 16 pt full color prints that can ship out in 2-3 days.
FAQs

What kind of black papers do you offer?

We have a great group of curated black papers and can order custom papers as well if your budget allows - simply fill out our quote request form to get started.

Are black business cards a good idea?

Yes, black business cards are a great idea! Not only do they look sleek and sophisticated, but they also provide an extra layer of uniqueness that can help you stand out from the competition. Plus, since black is a timeless color, your card won't go out of style like other more flashy options might.

Black business cards have been popular for decades with powerful professionals such as lawyers and CEOs who want to make an impression at first glance. They add a touch of mystery and class to any meeting or networking event. They also reflect taste and sophistication in the same way that wearing all-black clothing does.

Are black business cards more expensive?

If choosing black paper with foil stamping then in short, yes. If you use white paper and print it black, then the cost is inline with any other full color printed cards.

Is black a good color for business cards?

Black is a bold and elegant color that communicates professionalism and strength. When it comes to business cards, black makes any information you include standout, giving your cards a modern edge. Business cards in black also give off an aura of sophistication and opulence which can help you come across as a serious professional who commands respect. Based on our past years of orders, black paper is the most common colored paper chosen for business cards, outside of white paper of course.

What color texts work on black business cards?

When it comes to black business cards, the most important thing to keep in mind is contrast. When choosing a text color for your card, you want something that will not get lost on the dark background, but also isn't too bright or overwhelming.

White is certainly an option and can create a strong contrast against the black background. But if you're looking for something different and more eye-catching, consider light shades of other colors such as grey or off-white. You can even try adding some bold pops of color like yellow or orange to give the card some extra personality. And for a truly stylish look, you can opt for a sleek black on black effect where your text matches the darkness of your base color!

No matter what combination you decide upon–bright and bold or subtle and chic–just make sure it's easy to read and stands out without being garish.

What is the true black cmyk for business cards?

When it comes to producing a professional business card, you need to make sure your black looks as sharp and clean as possible. Fortunately, there is an easy way to do that: by selecting the right CMYK values for printing.

We recommend using c=40 m=60 y=60 k=100 for your business cards. This combination of values will produce the deepest, truest black color which will have maximum impact with any type of paper or card stock. 



Can I add Spot UV to black business cards?

Yes! We using a matte coated or matte laminated paper this is no problem and a great way to add depth to your design. If using uncoated paper or black paper we recommend using thermography to give a raised spot uv look or glossy black foil, depending on the intricacy of your design elements.

Can you print regular offset ink on black paper?

Technically, yes you can print regular offset ink on black paper. That being said, offset inks are partially transparent, so what you'll see won't be all that impressive or consistent in quality. 

Therefore, we recommend using foil stamping or silk screen printing to apply your text and design.

How do you make business cards black and gold?

If you want to make your business cards black and gold, there are two main options that you can choose from. The first option is to use a high-quality black paper stock and then apply some gold foil to it. This will give your business cards a classy, sophisticated look as the solid colors stand out against each other. 

The second option is using a gold metallic paper stock with black ink printed on top of it. 

How do you make black on black business cards?

There are (3) great ways to achieve this. Either print a white matte paper black, then apply spot uv. Or, use a black paper and add thermography or a black glossy foil.

For white paper printed black, you can also use a muted black color for the background and a richer black color for the glossy elements to enhance the visual contrast.

How do I make black luxury business cards?

For the most luxurious results we recommend choosing a thick exotic pre-dyed black paper and adding your design with foil stamping.

How do I make red and black business cards?

Either use white paper and print your black and red ink next to each other, or choose black paper and add red foil. We have metallic red foils and non-metallic foils that basically look like ink.

Where can I find black business cards templates?

We have a small group of curated black designs but if you don't find something there are plenty of websites offering beautiful black business card templates. One of my favorites is Canva – they have a vast collection of professional-looking designs that you can customize easily in just a few clicks. You just need to sign up using your email address or social media accounts and start experimenting with different colors, layouts, shapes and sizes to create something truly unique.

What kind of black business cards backgrounds do you recommend?

Are you looking to make a dynamite first impression? Don't settle for ordinary when seeking out black business cards backgrounds! Here are a few top picks that will set you off with a bold, confident flair:

1. Classic Black & White – For the professional who wants to combine timeless style with subtle elegance, classic black and white is always in fashion. Whether your contact information is printed in sleek silver or outlined minimally in charcoal gray, this pairing of tones never fails to look striking.

2. Abstract Art – If making an artistic statement matters most to you, consider adding abstract art like minimalistic diamonds, interlocking shapes or contemporary geometric designs as your background option for standing out from the crowd at networking events.

3. Glittering Gold – Black has plenty of glamour on its own but if it's dazzle and sparkle that you seek then pair it up gold lettering against a matte black backdrop for an eye-catching effect without being over-the-top gaudy or ostentatious. It's sure to get everyone admiring the finesse and sophistication at first glance!

4. Damask Prints– These luxurious prints ooze refinement and class whilst also giving off vintage vibes so if it's something more exotic that appeals to you then go ahead and add intricate damask designs as backdrops which will put any lacquer finishing treatments into sharp relief as well as making each card look truly special while being memorably distinctive too..

How do I make pink and black business cards?

There's always a few ways to skin a cat. You can print black and pink ink on a white paper - you could even use Pantones Neon / Pastel series inks for an extra bright pink. You could also opt to use bright pink paper and print black ink or even foil stamp in black on it.

Where can I find black business card ideas?

Whether you're looking for inspiration for a creative and unique business card, or just trying to make something that stands out, there are plenty of online resources to find black business card ideas. Here's a few places to get started:

1. InDesign Sketches – This site offers a plethora of digital sketches featuring black backgrounds with customizable shapes and text, making it perfect for creating professional-looking cards in no time at all. The best part is they're free to download!

2. Canva – Similar to the previous example but more geared towards graphic design, this website has some fantastic templates readymade with black backgrounds and classic font styles which can be customized into professional looking cards quickly and easily. What's more, each template can be downloaded in either vector or JPG formats for printing purposes as well!

3. Creative Market – Last but not least is Creative Market where users can find dozens upon dozens of professionally designed graphic assets such as fonts, illustrations and logos; each one tailored specifically with darker hues in mind so you don't have worry about wasting time finding what you need from endless sea of products out there today.

Where can I find black business cards mockups?

Are you looking for a black business card mockup? Well, there are many great places to look online. First and foremost, my go-to source for all types of mockups is Freepik. They have a wide selection of black business card mockups that are both high quality and easy to customize.

Another great option is Mockupworld – they offer tons of creative designs with realistic shadows and lighting effects which make them perfect if you want to create something really unique.

Lastly, Graphicsfamily carries some fantastic modern business card templates that are sure to get people's attention when they see your business cards! No matter what design or style you're looking for, one (or more) of these sources should have something that fits the bill!

Can black business cards have silver foil?

Sure can! And you can also choose from over 45 other awesome foil colors offered standard here at Print Peppermint.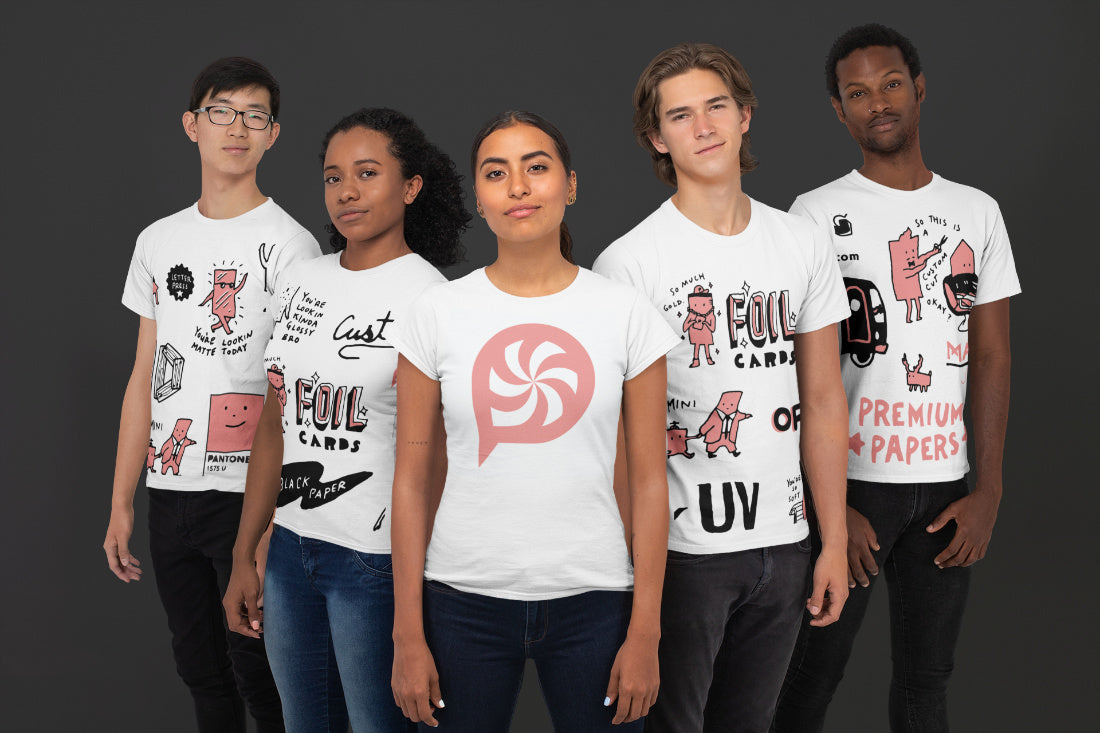 Group Order?
Ordering Black Business Cards for your Team or need Special Features not listed here?
Request a Quote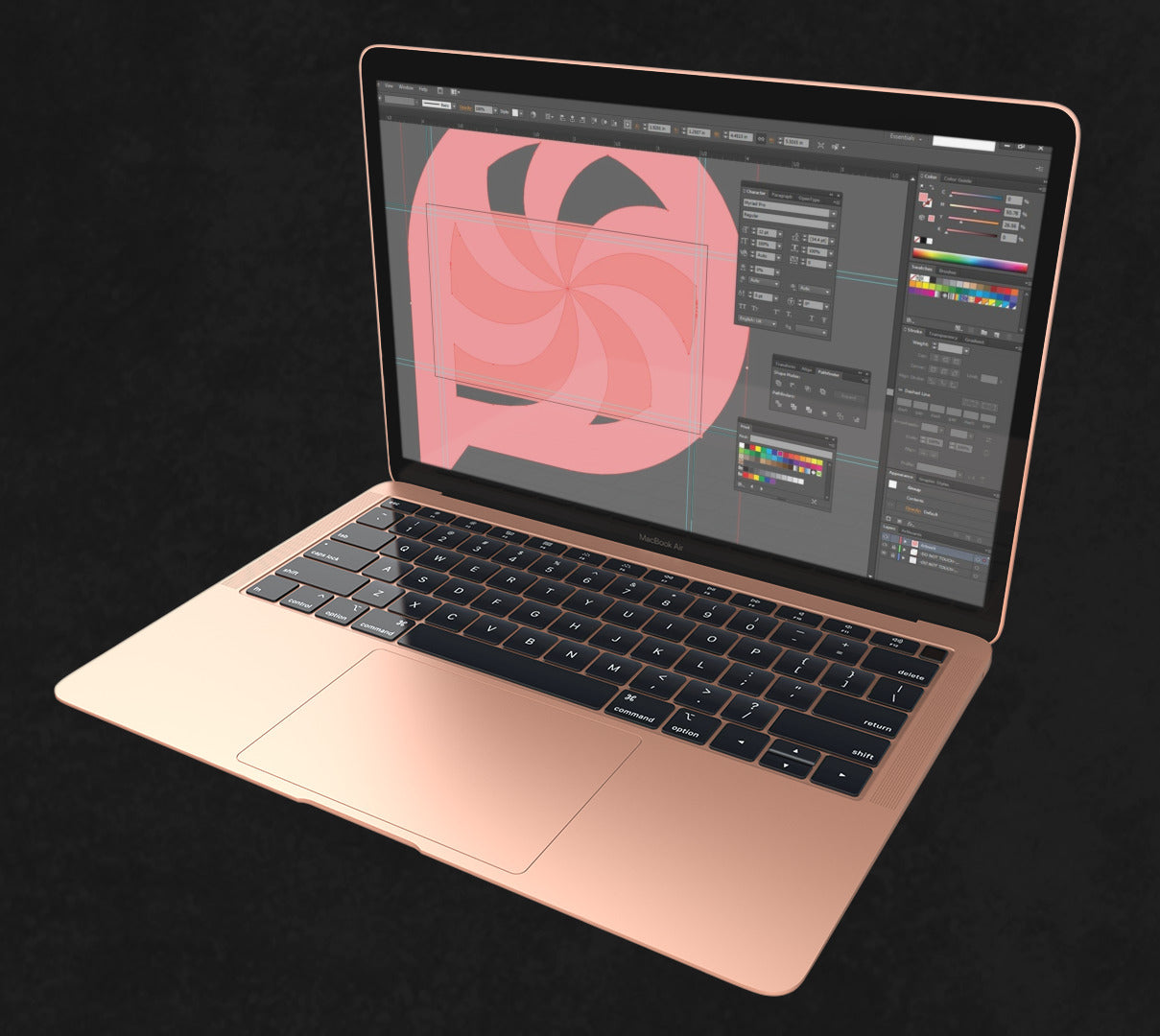 Our Design Services
Not happy with a design template?
Hire our graphic design team to design totally Custom Black Business Cards
Learn More
Experience our Quality & Craft
Our Instagram Page

Explore the best in design with Peppermint's Instagram page! Get inspiration for your next project and stay up-to-date with our latest work. Follow us!

View Instagram

Our Youtube Channel

Discover the latest in print design with Print Peppermint's YouTube channel! Over 250 4K videos featuring product demos and tutorials. Subscribe now!

View Youtube