These luxuriously thick and soft cotton paper business cards are debossed with a Pantone spot color, giving them an elegant and minimal look.
Regular price
Sale price
$49.00
Unit price
per
Sale
Sold out
The Peppermint Promise

We strive to produce high-quality products that not only meet, but exceed, our customers' expectations, but we understand that there may be times when you are not satisfied with your order. If you are not satisfied with your custom product, please contact us within 14 days of receiving your order and easily request a reprint or refund.
View full details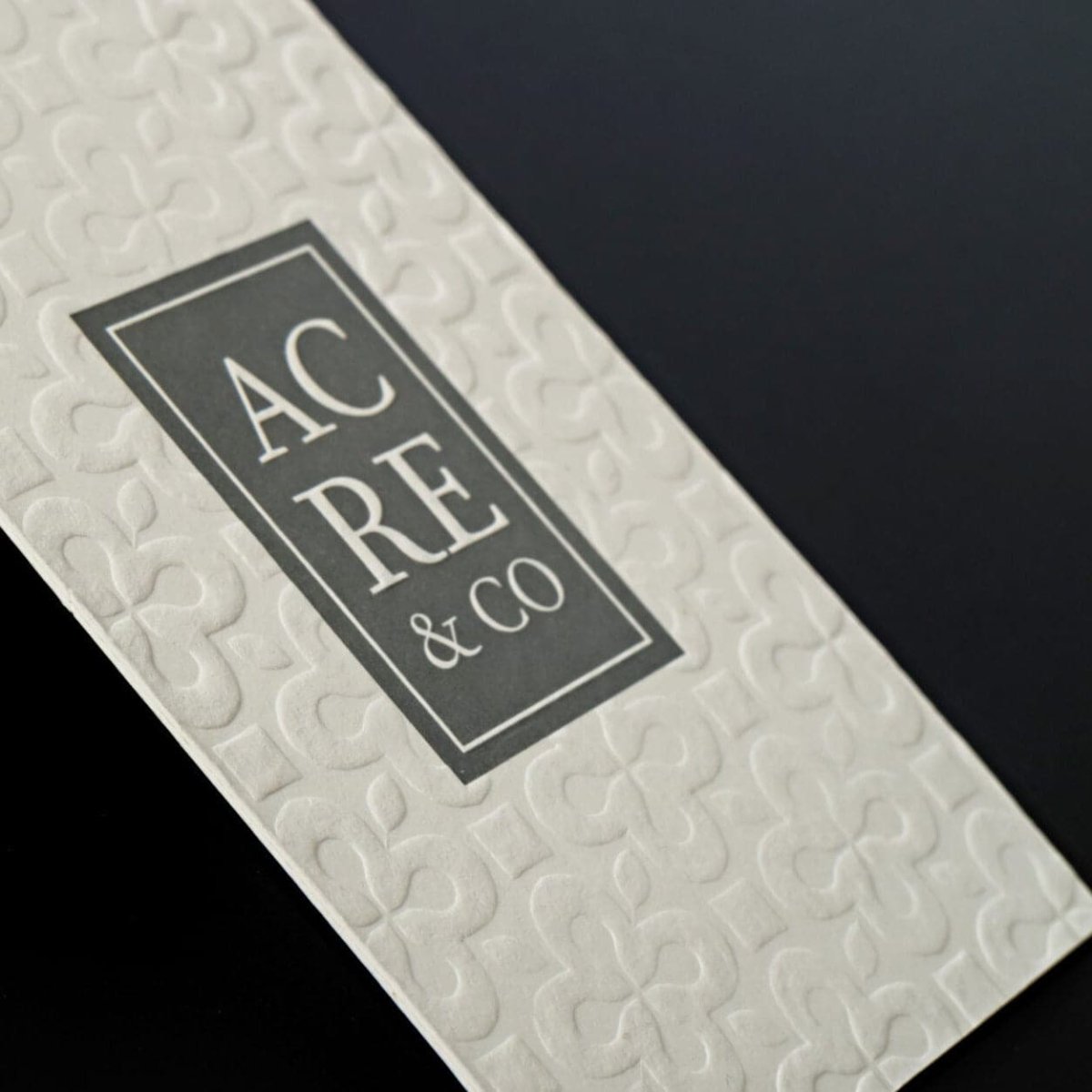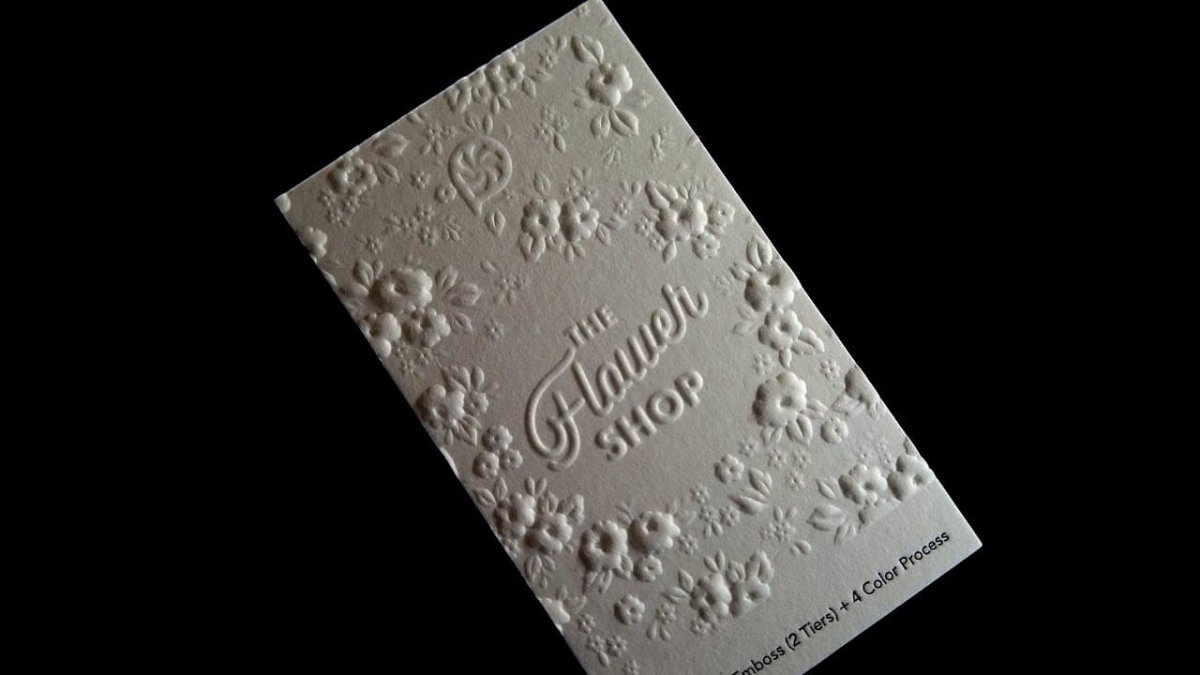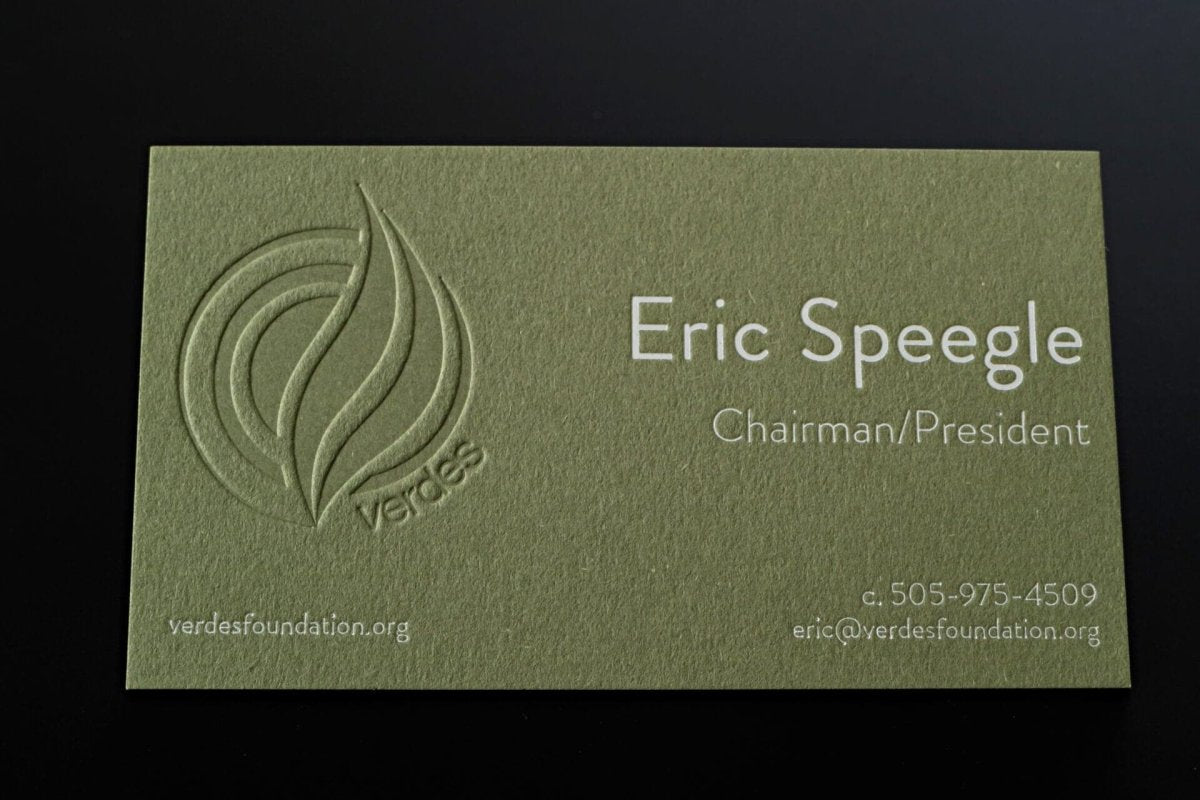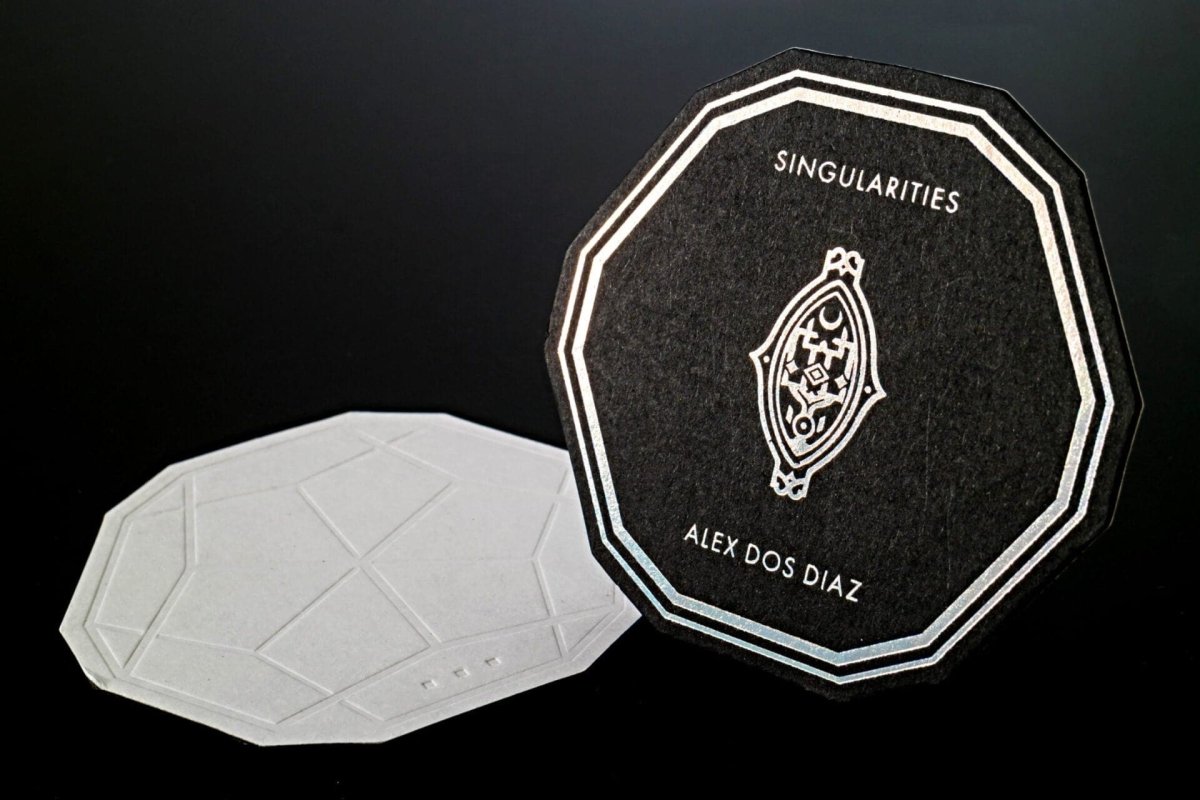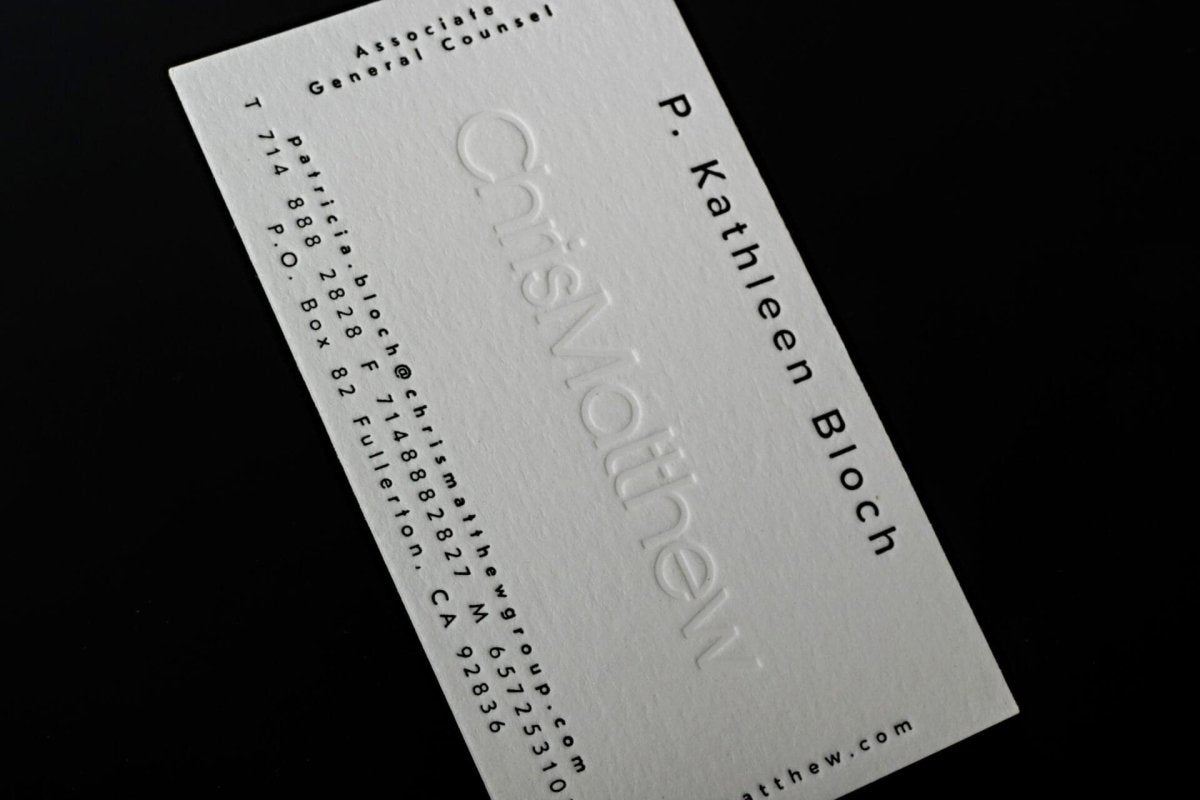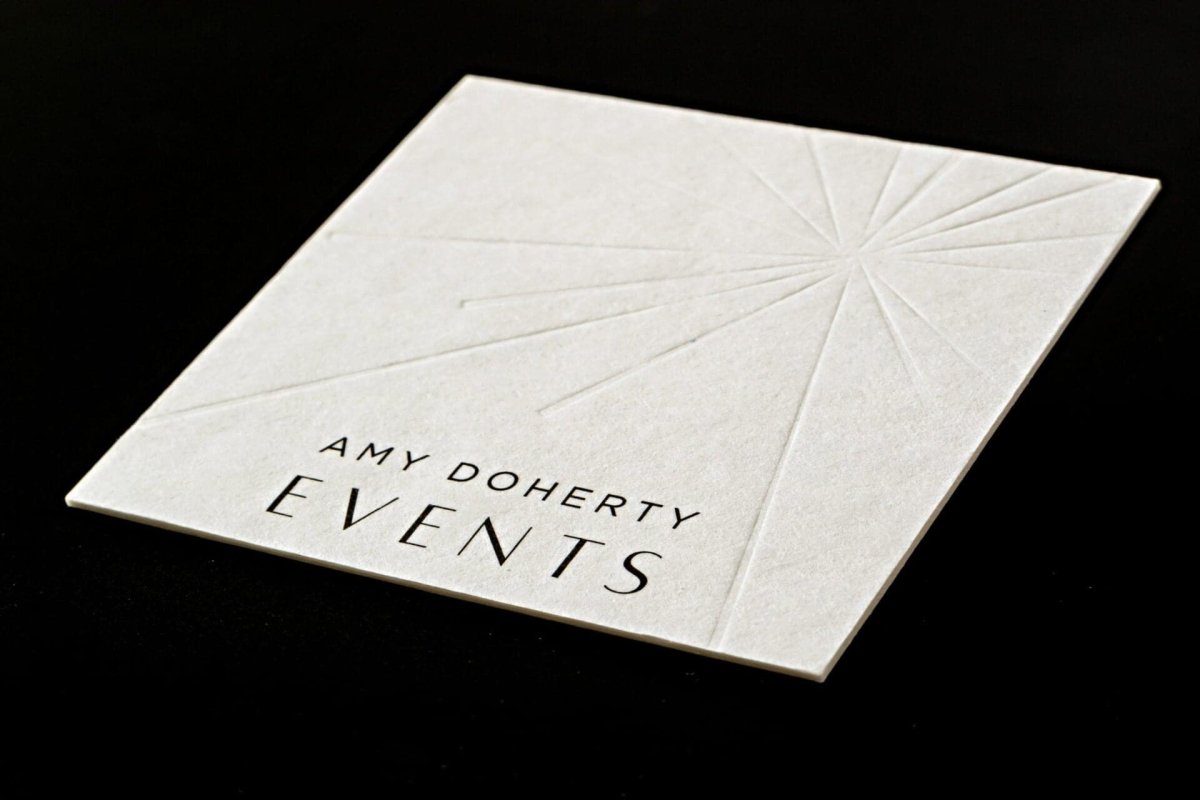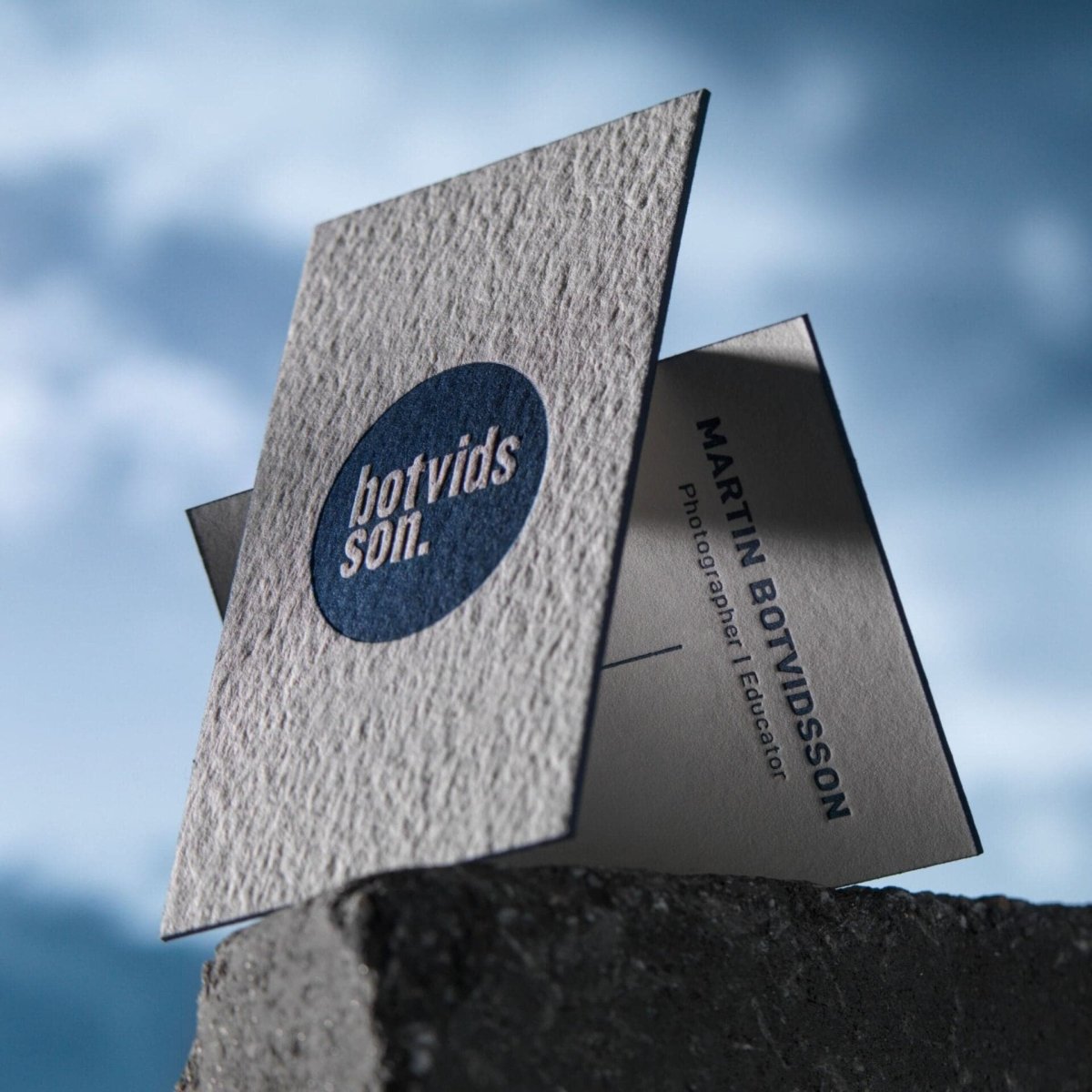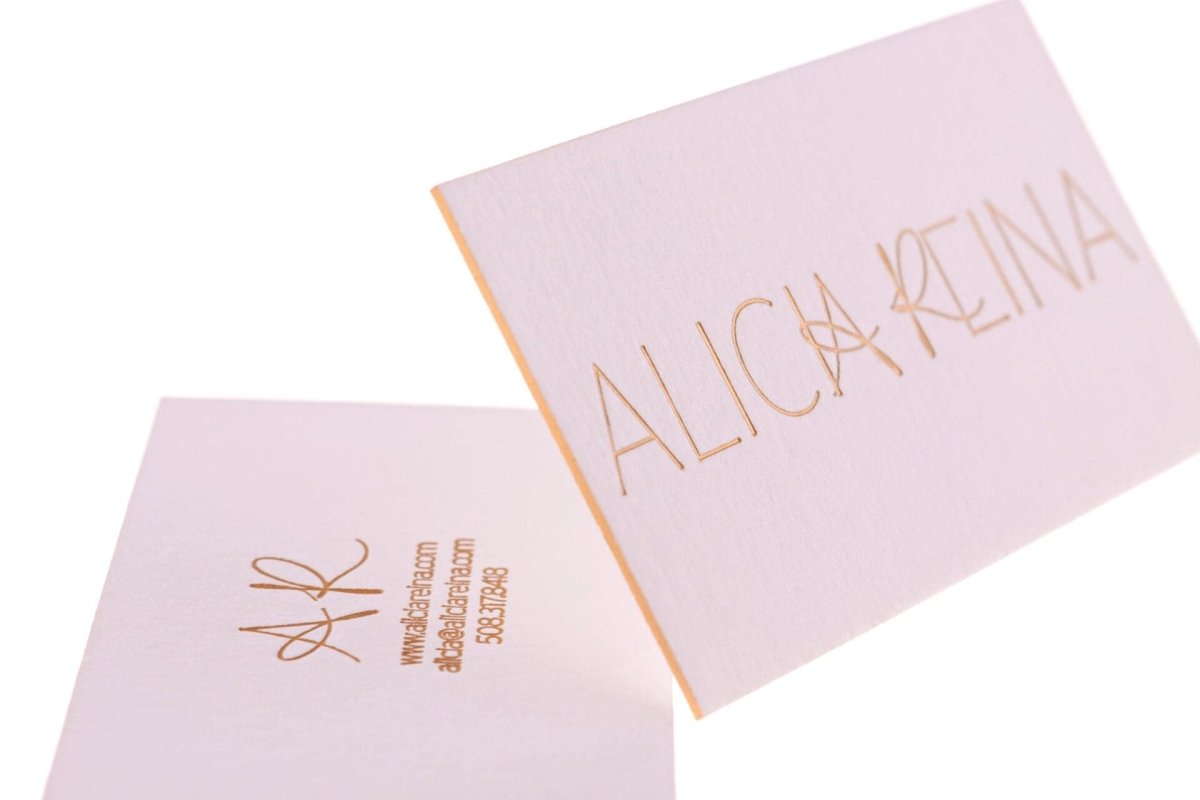 If you're into Letterpress Business Cards, you may also like:
Included with every Letterpress Business Cards Order, Always!
Designer-Verified Artwork Proofs

Every art file from every Letterpress Business Cards order is hand-checked by our meticulous PrePress team.

Fast & FREE Temporary Prints

Want something fancy but need something fast? That's why we offer free holdover prints for orders over $250.

Ultra Happiness, The Peppermint Promise

If you're not totally happy with your Letterpress Business Cards, easily request a reprint or refund within 14 days.

Seriously Safe & Secure Payments

We do everything in our power to keep your data safe. Full PCI compliance & data privacy standards.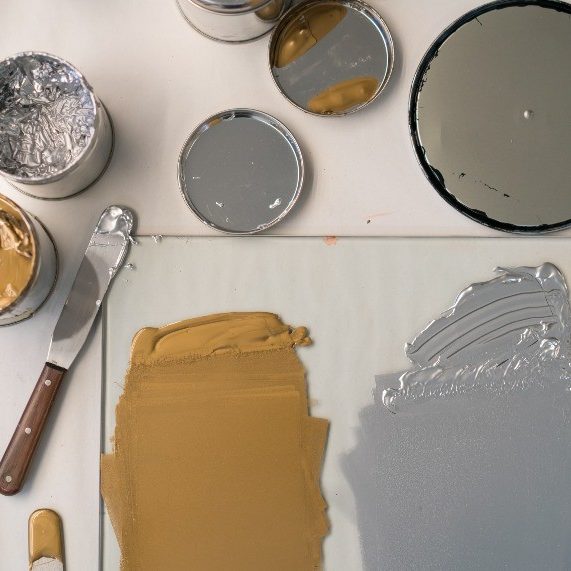 Letterpress business cards are the height of luxury!
FAQs - Letterpress Business Cards
Materials

Letterpress Business Cards can be produced on any of these great stocks:

Click the time stamp link on the left to view video footage of each stock.

01:30 - Lucky Day / Cordenons Wild Natural (White)

02:26 - Deer Hoof / Cordenons Wild Natural (Sand)

02:38 - Top Hat / Cordenons Wild Natural (Black)

02:54 - The Crown / St. Cutherberts - Saunders Waterford (White) HP

03:54 - UK Bell / @Hahnemühle Leonardo Rough (600 gsm)

04:38 - The Soloist / Saunders Waterford (White) 638 gsm Rough

04:58 - Free Range / Crane Lettra Fluorescent White (600 gsm)

05:58 - Unicorn Magic / Crane & Co - Crane Lettra Pearl White (600 gsm)

06:14 - Classic Florist / Gmund Cotton White (600 gsm)

07:25 - Lady Shoes / Gmund Heidi White (530 gsm) 100% Recycled

08:31 - Der Schaedel / Gmund Cotton Light Gray (600 gsm)

09:01 - Black Rabbit / Gmund Heidi - Dull Black (530 gsm)

09:12 - Wild Natural Black vs Heidi Dull Black

09:43 - Der Hund / Gmund Heidi - Soft Kraft (530 gsm)

09:56 - Wild Natural Sand vs Heidi Soft Kraft

10:10 - Nice Chair / Sakura Cotton (700 gsm)

10:44 - Saunders Waterford vs Sakura Cotton
Finishes

Letterpress Business Cards can be enhanced with any of these optional features:
Turnaround

Letterpress Business Cards typically require:

PREMIUM Turnaround Time (See chart below)

Turnaround depends on the paper & features selected for your project.

Not sure which category your order falls in to? Feel free to contact our support team.

TURNAROUND

Basic Products

Includes:

16pt Matte & Gloss
14pt Uncoated
10pt Linen
Rounded Corners
Spot UV

(2-4) Business Days*
+ Ship Time

Standard Products

Includes:

Silk & Soft Touch Lamination
Raised Spot UV & Raised Foil
Hot Foil (Limited)
Edge Painting (Limited)
20pt Plastic
Some Folding

(2-4) or (5-7) Business Days*
+ Ship Time

Premium Products

Includes:

Exotic Papers
Thick Papers
Hot Foil (All Colors)
Die Cutting
Embossing
Letterpress Printing
Spot Color Printing
Edge Painting (All Colors)
Metal & Wood
30pt Plastic
Custom Folding

15 Business Days*
+ Ship Time

+ Temporary Prints (please ask about pricing)

 * These are Averages based on our previous 12 months of orders.

By policy, we DO NOT GUARANTEE TURNAROUND TIMES - there are simply too many factors outside of our control.

Please note, Ship Time is in addition to Production Time.

If you do have a HARD DEADLINE, please reach out to our customer support before placing your order to confirm feasibility. 

For orders over $250, we offer Temporary Prints to help bridge longer wait times. These are basic 16 pt full color prints that can ship out in 2-3 days.
FAQs

What are letterpress business cards?

Letterpress business cards use one of the oldest printing methods, letterpress. Letterpress impresses the paper and adds fine details to any design, unlike digital and offset printing. It makes elegant stationery, wedding invitations, greeting cards, and other paper products.

Digital and litho printing transfer ink from rollers to a flat surface in one step. Letterpress makes several impressions on lightly pressed cardstock using plates. This elevated effect offers a captivating 3D effect. It also highlights texture, like ink "kisses" made with slight pressure.

Its unpredictability makes it appealing. Each print is unique since ink levels change during each run. A hand-made texture is produced. Exceptional! Letterpress printing is also more durable. Even if they fall off a desk, letterpress business cards will last longer.

How to make letterpress business cards

Letterpress business card tips:

Select the suitable material. Choose strong, sturdy paper for your business cards to withstand several printing presses. Heavyweight papers like cotton or bamboo work well. Smooth papers are great for detailed artwork and typography.

2. Design. Most letterpress works require two plates: one to print the design onto the paper, and another to "trap" (a lot) additional ink onto transfer sheets so it doesn't stick to locations on the page where there shouldn't be any ink. Keep your design simple because this extra trapping will take longer to build.

3. Prepare plates. There are several techniques to prepare metal plates for letterpress printing, depending on the printer. Etch metal directly onto zinc plates or polymer-coat thin boards composed of wood, MDF, or polyester resin (also known as offset litho printing). Metal plates are better since they allow you to adjust production runs and save them for later use.

What cardstock is used for letterpress business cards?

Cotton, bamboo, and recycled paper are the most common papers for letterpress business cards. Cotton is costly. Smooth and somewhat textured. Its sumptuous feel and durability allow letterpress printing with great detail. Bamboo paper is thicker than cardstock, making it ideal for letterpress printing with beautiful raised impressions. It's printed differently and eco-friendly. Finally, utilize recyclable paper for business cards. Translucent vellum and kraft papers add intrigue to your cards.

Make sure your material is thick enough so it doesn't warp when printed. Your design won't look crisp and professional when printed on thin cardstock materials.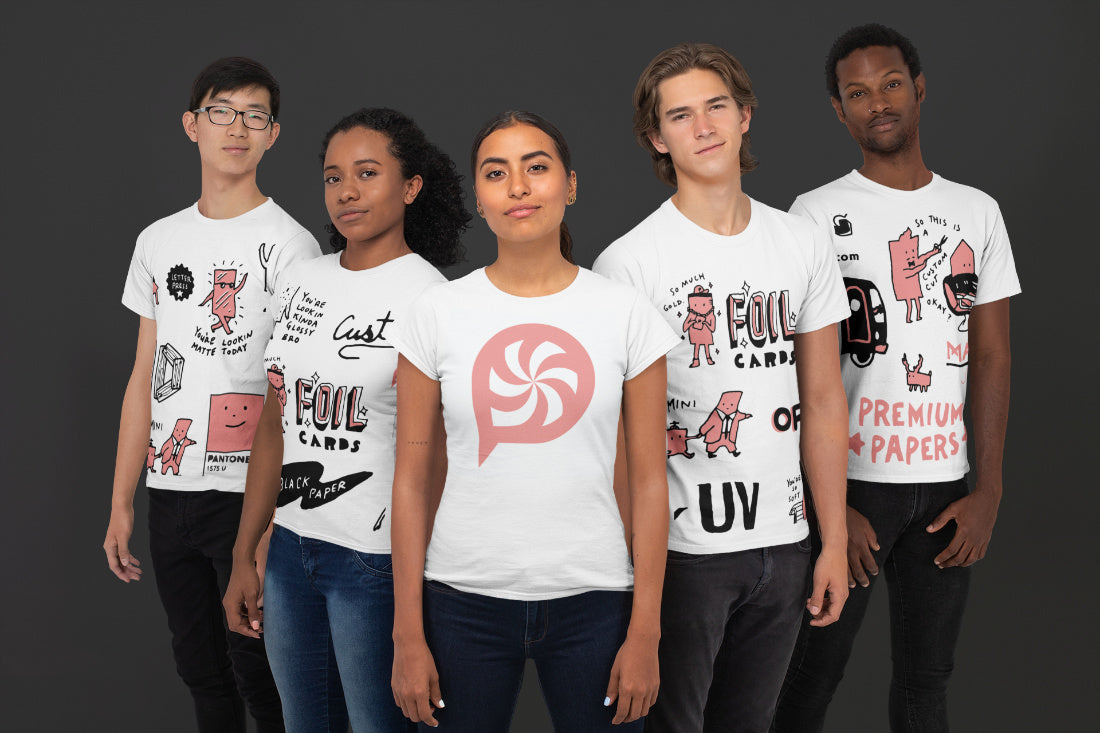 Group Order?
Ordering Letterpress Business Cards for your Team or need Special Features not listed here?
Request a Quote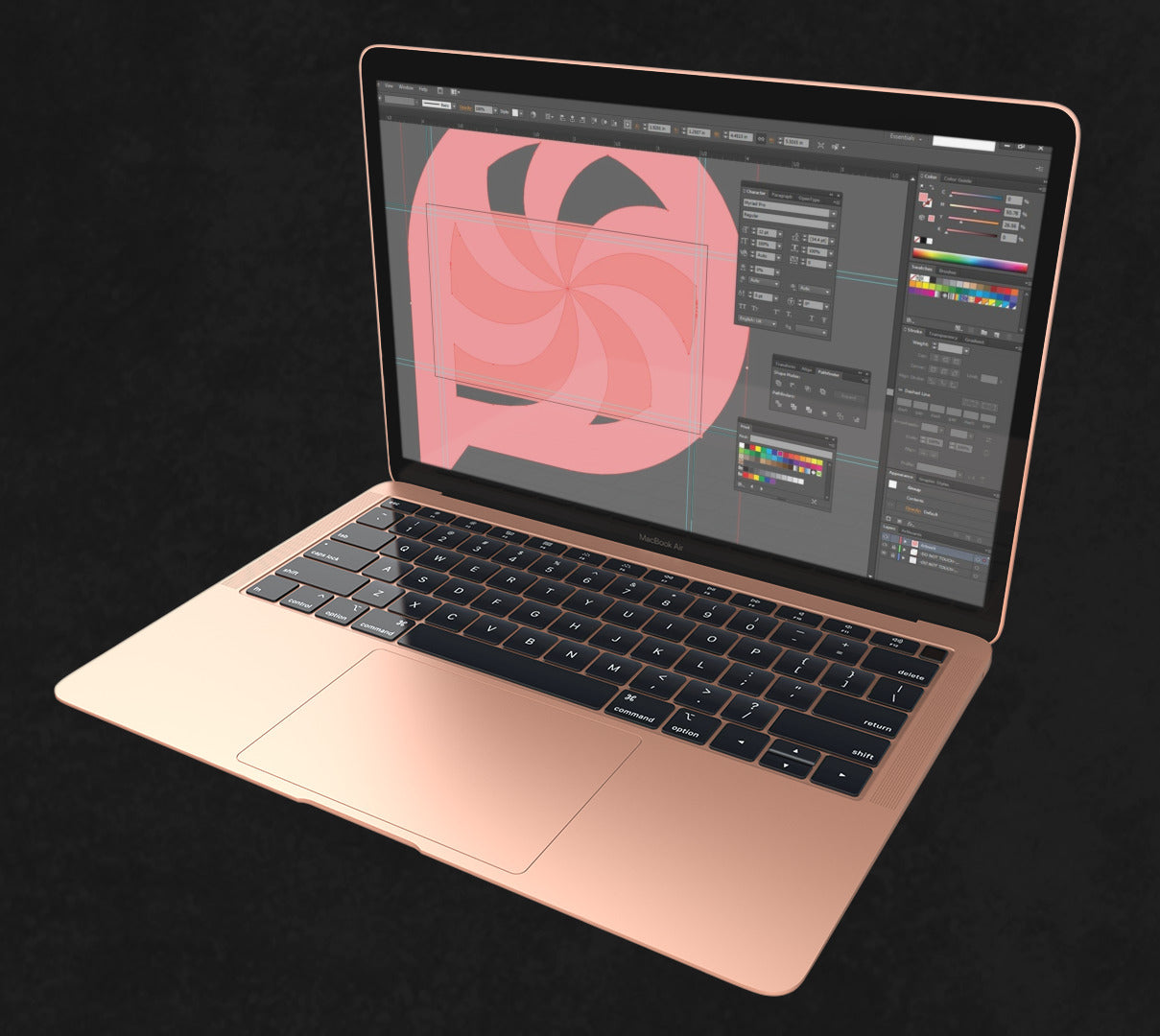 Our Design Services
Not happy with a design template?
Hire our graphic design team to design totally Custom Letterpress Business Cards
Learn More
Experience our Quality & Craft
Our Instagram Page

Explore the best in design with Peppermint's Instagram page! Get inspiration for your next project and stay up-to-date with our latest work. Follow us!

View Instagram

Our Youtube Channel

Discover the latest in print design with Print Peppermint's YouTube channel! Over 250 4K videos featuring product demos and tutorials. Subscribe now!

View Youtube